Best Horizon Fitness Treadmills of 2020
Horizon Fitness offers budget-friendly treadmills for walkers, joggers and runners.
All Horizon machines share some key traits, such as being foldable and having advanced three-zone cushioning. Most of them can send your workout data to various fitness apps too. Some are also 'Passport Ready'; these treadmills can use Virtual Active technology to sync the workout speed and intensity of your treadmill to mirror HD videos of scenic running and walking trails around the globe.
Ready to compare Horizon treadmills to see which one is right for you? Take a look at our top 5 best rated Horizon Fitness treadmills chart below to compare models, and dig deeper into the details in our Horizon treadmills buying guide.
Top 5 Best Rated Horizon Fitness Treadmills
Horizon Fitness Treadmills Buying Guide
Horizon Fitness is one of FitRated.com's favorite home treadmill brands. This wasn't always the case, but the brand has really upped their game in recent years. Its products cover a wide price range, but now even the cheapest Horizon treadmill (the T101, which is just $599) combines durability with special features.
The Typical Horizon Treadmill
So, how strong do you need your treadmill to be? Horizon treadmills vary in continuous horsepower (CHP), from 2.5 CHP found on the T101 to an impressive 4.0 CHP found on the new 7.8 AT.
Before exploring the differences between Horizon treadmills, it's helpful to know what they have in common. Similarities include:
Easy assembly:

Plan to spend about 30 minutes on the assembly of a Horizon machine.

Space-saving:

Horizon treadmills have FeatherLight folding frames. Hydraulics make it easy to store their decks upright to save floor space.

Quiet motors:

Johnson Drive motors are quiet to help you exercise without disturbing your household. What's more, all Horizon treadmill motors have lifetime guarantees, even on the cheapest machines.

Three-zone suspension:

Horizon treadmills'

3-Zone Variable Response Cushioning

is inspired by the typical high-quality running shoe, which provides different amounts of cushioning to different parts of your foot. This helps make exercise more comfortable and promotes endurance.

Power incline:

We tend to favor treadmills with inclines, as they literally ramp up your potential for calorie burn and muscle toning. Each new Horizon treadmill has an incline maximum of 10, 12 or 15%.

Amenities:

Horizon machines have a range of different amenities depending on the model, from Bluetooth speakers and tablet holders, to fans and water bottle holders.
As for workout tech, many Horizon treadmills are Bluetooth compatible, and their ViaFit-enabled machines make tracking and monitoring your fitness data a breeze. When it comes to workout variety, as well as the built-in workouts, Horizon's Passport-enabled treadmills allow you to experience immersive Virtual Active video workouts. Here, you can virtually experience the rise and fall of terrain (simulated through incline/decline) on running trails around the globe. 
Passport/Virtual Active:

Horizon's Passport-ready machines allow you to exercise with synchronized sights and sounds of scenic destinations, as Virtual Active programming controls your treadmill incline to copy topographical changes. Using a Passport Player, you can connect the programming to your treadmill and home entertainment system. Explore everywhere from the California Desert to the French Riviera from the comfort of your home gym. It's a great way to stay motivated to keep exercising as it allows you to mix up your workouts and explore new destinations around the world.

ViaFit data tracking: ViaFit makes it easy to track your long-term fitness progress by automatically storing your workout data in the ViaFit mobile app. You can pair an Apple or Android device to sync whenever it's in range of your fitness machine. The ViaFit app can also connect with wearable fitness trackers to log daily step counts and other fitness data.
Horizon GO Series
The GO Series features Horizon's lowest-priced treadmills: the T101, the T202 and the T303. Historically these machines have been ideal for walking and light jogging, but not running. Prices range from to $599 to $999.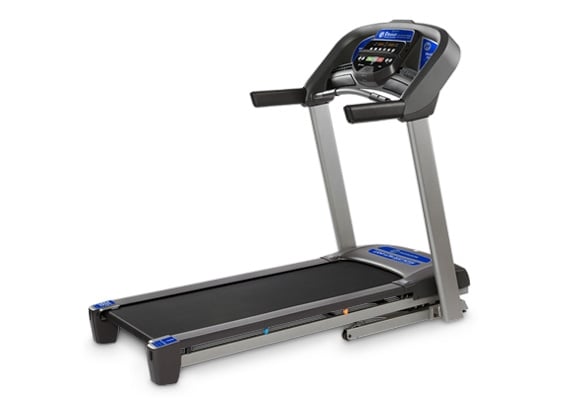 The cheapest treadmill on Horizon's website is the Horizon T101. This budget-friendly folding treadmill has a 20″ x 55″ track and 2.5 CHP motor. With power controls or preset workout programs, the track speed can reach 10 mph and the incline can reach 10%. Overall the machine is a good buy at $599, a price that has seen a significant drop from when it was a newer kid on the block.
The T202 and T303 offer a roomier 20″ x 60″ track, a higher top speed of 12 mph and a steeper incline up to 12%. They also offer more motor power: the T202 has a 2.75 CHP drive, just below the T303's 3.0 CHP drive.
Even though these are Horizon's cheapest treadmills, they're still protected with a lifetime frame and motor warranty, and one year of labor coverage. As for parts, the T101 and T202 offer 1 year of coverage and the T303 bumps this up to 3 years.
Horizon Studio Series
The Studio Series features the most tech-friendly treadmills in Horizon's roster, and includes the 7.0 AT, 7.4 AT and 7.8 AT. Prices for these models ranges a lot, starting at just $999 and reaching $1,499 and $1,799 for the newest models.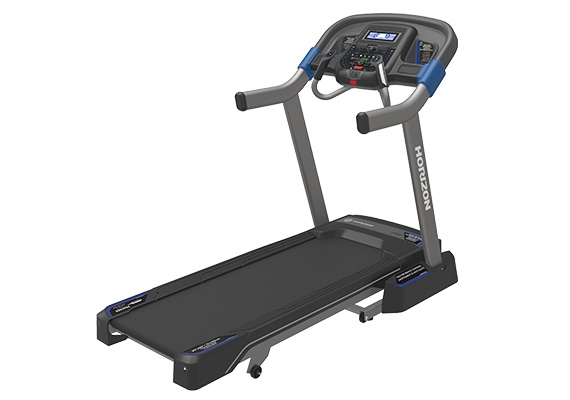 The 7.0 AT offers a roomy 20″ x 60″ track and an impressive 3.0 CHP motor that can drive a top speed of 12 mph and an incline range up to 15%. It also offers a 3 years parts and 1-year labor warranty.
The 7.4 AT and 7.8 AT both have an impressive 22″ x 60″ deck, and offer more powerful 3.5 CHP and 4.0 CHP motors respectively. As for customer protections, the models offer 5 years of coverage for parts and 2 years for labor.
Horizon Adventure Series
Currently the only model in production from the Horizon Adventure Series is the Horizon Adventure 3. This user-friendly treadmill has a 20" x 55" track and a 2.5 CHP belt motor, now selling for just $899 with a competitive warranty.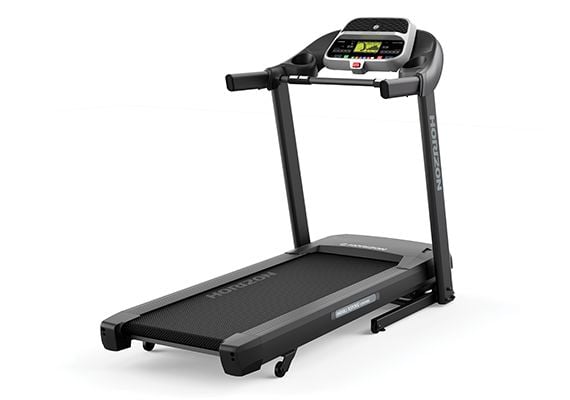 The Adventure 3 Treadmill has a top speed of 12 mph and a maximum incline of 12% and is Passport ready. 
Like all Horizon treadmills, the Adventure 3 carries a lifetime warranty on its frame and motor. Buyers also get three years of coverage for the parts and one year of labor.
Horizon Elite Series
The Elite Series features Horizon's best treadmill parts and electronics, although the new Studio Series models do give them a good run for their money when you compare each feature. The series includes the Elite T5, the Elite T7-02 and the Elite T9-02. Compared with lower series' models, these cardio trainers are more durable, with large rollers approaching commercial quality and a large variety of built-in workout programs (from 38 to 42). Their prices range from $1,199 to $1,999.
Leading this Elite Series collection is the Elite T9-02. Meant for runners, it features a spacious 60" x 22" workout surface and has a 3.25 CHP motor. A backlit 8.5" screen gives access to 40 preset workout programs. Like all of the treadmills in this series, the T9-02 is Passport ready as well.
This purchase is backed by a lifetime warranty on the frame and motor, five years of parts protection, and two years of labor.
The Elite T5 and Elite T7-02 have 20″ x 55″ and 20″ x 60″ running surfaces respectively, as well as 2.75 CHP and 3.0 CHP motors. Both models offer a 1-year labor warranty. The T5 offers 3 years on parts and the T7-02 bumps this up to 5 years of protection like the top-of-the-line model in this series.
All models in the series have a top speed of 12 mph, an incline range up to 15%, and high weight capacities of up to 350 lbs.
Horizon Company Profile
Horizon's customer service (based in Wisconsin) is commendable; their parent company, Johnson Health Tech North America, has an A+ rating from the Better Business Bureau. 
Horizon treadmills are manufactured in Taiwan. The same manufacturer also builds treadmills for higher-end brands like Vision Fitness and Matrix Fitness; Matrix treadmills are meant for elite health clubs and luxury home gyms.
More Horizon Fitness Treadmills
The following did not make the Top 5 Horizon Fitness Treadmills, but are still worth a look: